I was going to save this for my "Global Warming Wednesday" post this week, but time is of the essence. As I wrote a couple weeks ago, the issue for BlogHers Act Canada is the environment. And so now there's a vote this week to determine what our exact focus will be.

Head on over and make your choice: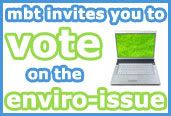 Besides the larger issue that we're voting on, BlogHers Act Canada will also include a monthly personal action item to encourage individual changes. Not that I consider myself the inventor of this, but I do take a little pride in having suggested it.

And remember, even though this is officially BlogHers Act

Canada

, there's nothing that says you have to be Canadian or in Canada to take some action yourself. I plan on following along even after we've made our move to Springfield.

So go vote already!